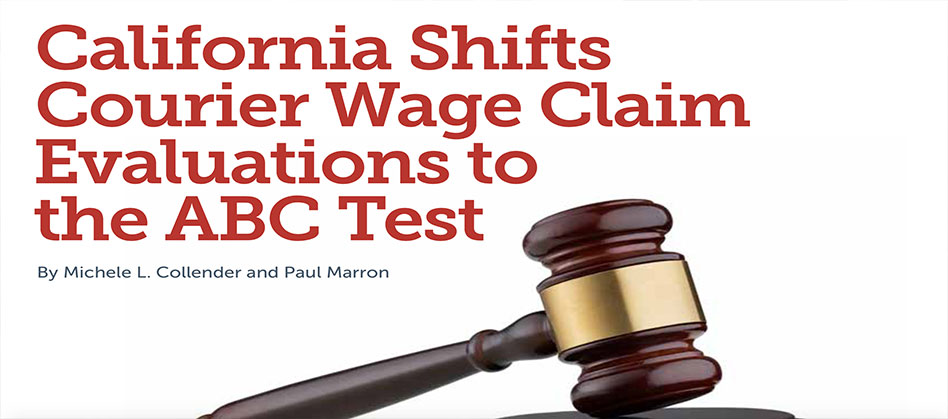 The courier industry has grappled with the issue of employee v. independent contractor classification for years, navigating through choppy multi-factored state and federal legal waters susceptible to the slightest winds in any direction. Courier companies are all too familiar with the frequent revisions to independent contractor agreements, continuous updates to arbitration clauses, and ongoing reviews of best practices and procedures all to protect the independent contractor model. Get ready to step up to the plate again because California has thrown another curve ball with the decision in Dynamex Operations West, Inc. v. The Superior Court of Los Angeles County.
Earlier this year the California Supreme Court decided that allegations of wage claim violations, which may hinge on the proper classification of a worker as an employee or an independent contractor, shall be evaluated under the ABC test. The court, almost as an advocate for increased worker protection, set an impressively high bar for courier and other transportation companies to maintain compliant independent contractor classifications for their workers. The court emphasized how important it is for companies to classify their workers correctly, stating, "Although in some circumstances classification as an independent contractor may be advantageous to workers as well as to businesses, the risk that workers who should be treated as employees may be improperly misclassified as independent contractors is significant in light of the potentially substantial economic incentives that a business may have in mischaracterizing some workers as independent contractors." The ABC test ultimately narrows those circumstances in which the law will support organizations classifying their workers as independent contractors.
The ABC Test
The Dynamex decision changes the test for allegations of California wage order violations, including failure to pay minimum wage and overtime, failure to provide meal breaks, and failure to permit rest breaks. Other claims, non-wage order claims, such as unreimbursed business expenses, are still evaluated under the multi-factored right-to-control Borello test.
The ABC test presumes that all hired workers are employees. A worker is an independent contractor only if the hiring entity can establish A) the worker is free from control and direction of the hirer in connection with the performance of the work; B) the worker performs work that is outside the usual course of the hiring entity's business; and, C) the worker is customarily engaged in an independently established trade, occupation or business of the same nature as the work performed for the hiring entity. In other words, to pass the ABC test a company with independent contractors must decrease its control over workers, distinguish its business from the services provided by workers, and distance its connection to its independent contractors.
Part A is a common underlying factor to the traditionally applied Borello right-to-control test that courier companies have become familiar with in California. For that reason, it should also be the simplest to satisfy. But, to pass the ABC test, a worker must satisfy all three prongs. For many courier companies, parts B and C will present a challenge. The Court can start with any of three prongs in its analysis, stopping at the unsatisfied prong and entering a finding that the worker is misclassified.
Post-Dynamex Landscape
Technology in the courier industry provides quicker communication, faster orders, and more on-demand deliveries. Dynamex unfortunately creates a huge barrier to grow under the guise of employee protections. Given the potentially devastating effect of a misclassification determination and the uncertainty provided by Dynamex, a crowd of responsive lawsuits and legislative initiatives is expected to clarify the Supreme Court's holding.
Indeed, within weeks of the Dynamex decision, lawsuits were filed against companies like Uber and Doordash incorporating key language from the ABC test. For example, in Suhail Farran, et al. v. Doordash, Inc. the factual allegations directly address prong B of the ABC test. The pleading aligns the service that workers provide, which is delivering food, with the service provided by the company: "Defendants are in the business of providing food delivery services throughout California."
Another case filed against Instacart in Los Angeles takes the same direct approach to an attack under the ABC test: "Instacart is a company whose primary business is delivering goods directly to its customers…Shoppers acquire items requested by the customer from a retail establishment, and then deliver the items to the customer. The work performed by Shoppers is within the usual course of Instacart's business."
Companies like these will face the challenge of distinguishing their business from the services performed by their independent contractors. Even more difficult, under prong C these companies must show that their workers are engaged in similar services for other hiring entities. The courts now have the obligation to consider these unique business structures and whether to create carve-outs and exceptions distinguishing modern gig-economy and shared-economy structures from those of traditional business structures. Otherwise, this decision could be devastating to growing technology and app-based companies.
Other states, where the ABC test is already used, have made legislative modifications to the strict ABC test. For example, workers in Massachusetts, Connecticut, and Illinois meet the B factor when the work they perform is completely outside of all the places of business of the enterprise for which such service is performed. Other states have carved out exceptions to the ABC test for certain types of workers, like taxi-cab drivers. The industry in California will have to see how the courts and legislative efforts mold the Dynamex decision. As the technology grows, and along with it on-demand shipping and last-mile deliveries increase, it may make economic sense for California to consider these types of changes and for courier companies to get involved with legislative efforts in support of developments in their favor.
It is Better to Prevent than to Cure
Traditionally sought good legal advice still applies, but now it is even more important to engage knowledgeable counsel to review business structures and practices. Companies who still have independent contractors must conduct a complete evaluation of operations to determine ways to improve and protect their business models. As usual, businesses will need to be creative, flexible, and work with attorneys who understand that there is no one-size-fits-all approach.
A closer look at Dynamex workers and the facts that the court found significant in the Dynamex decision, offers some insight into whether your company's structure will pass muster. The factors that many courier companies share, and for years have relied on for protection against employment misclassification claims, now fail to provide the same protections under the ABC test. Dynamex drivers provided their own vehicles, paid their own expenses (including insurance, workers' compensation and Nextel devices), set their own schedules, had the option of rejecting deliveries, created and followed their own routes, could drive for other companies, and hire their own drivers—and still the court found that they were employees.
In the wake of Dynamex, there are some structural considerations that can be implemented which may strengthen an attack on your independent contractor classifications:
Relax driver requirements to eliminate control factors;
Allow, even encourage, drivers to have alternative sources of business;
Consider reorganizing as a co-operative or franchisor;
Implement technologies to distance the company from the drivers for both scheduled and on-demand drivers;
Dedicate either to an employee or independent contractor structure and refrain from mixing the two together within your organization; or,
Reclassify drivers as employees.

It is often said that drivers are the backbone of the courier industry. Driver satisfaction can make or break a company; unfortunately, the same is true about a misclassification lawsuit. Despite the potential harm to organization-driver relationships, until litigation and legislation further define the parameters of the ABC test, organizations with independent contractors must reevaluate businesses practices to satisfy the ABC test. This may require drastic structural changes, but because the consequences of a misclassification finding can be catastrophic to a company, this adaptation is critical to protect against misclassification allegations.

About the Authors
Michele Collender is an Associate at Marron Lawyers, a statewide California firm that handles cases across the country. She has deep experience in misclassification cases. Paul Marron is the Principal and Founder of Marron Lawyers and has been practicing in the misclassification arena for nearly 20 years. The firm features the Independent Contractor Proactive Program, which assists courier and last-mile delivery companies in risk management and contracts with drivers. Marron Lawyers has prevailed in large class actions to smaller individual suits. Its sizeable and capable misclassification team has been brought in by clients to directly try or assist local counsel in 11 states nationwide. marronlaw.com
---
---