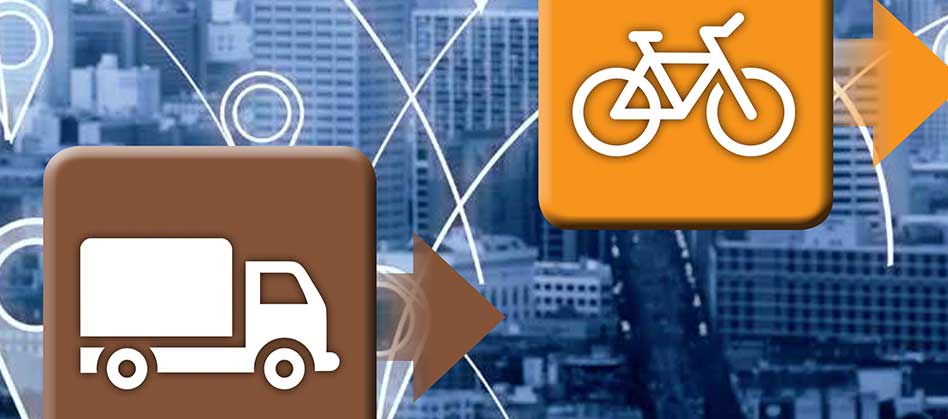 OnTrac News
Partners with AB&R® to Help Identify, Track, and Manage Delivery Packages
OnTrac and AB&R® (American Barcode & RFID) announced a strategic partnership to help drivers deliver packages more efficiently. The two companies are joining forces to address issues in mobility and route management, and package tracking.
"If you make an online purchase from an e-commerce site that ships from the Western U.S., then most likely OnTrac is the parcel logistics company behind the delivered package," stated Mike Stryczek, CEO of AB&R®. "We are excited to be working with the OnTrac team on the next generation route management solution for enhanced driver efficiency, increased flexibility and superior package tracking."
AB&R® is working together with OnTrac to move their devices over to AndroidTM devices. The AndroidTM operating system is much more touch-friendly. This means less reading errors and faster response times in the delivery management application, an important factor when speed and efficiency are the main components for generating and increasing revenue.
OnTrac and AB&R® are also developing an easy-to-use, customizable delivery application for OnTrac Service Providers. The upgraded application will allow an OnTrac Service Provider to easily adjust their route by dragging and dropping addresses, integrating google maps for turn by turn navigation, and sync functionality that will send data back to OnTrac's delivery management system for administrators to take action in real-time.
"OnTrac is looking forward to working with AB&R® as the delivery application receives an important upgrade," says OnTrac Vice President of Information Technology Timothy Elder. "On Time Delivery For Less is the cornerstone of all OnTrac services, and these changes will ensure that performance continues to the OnTrac standard."
With AB&R®'s support, OnTrac will have a mobile package tracking system that allows Service Providers to deliver more packages in less time. This partnership is to benefit everyone from OnTrac employees throughout the supply chain all the way down to OnTrac customers.
OnTrac Expands in Phoenix, Arizona with Second Facility

OnTrac, a logistics company specializing in parcel delivery services throughout the Western United States, celebrated the grand opening of their second facility in Phoenix, Arizona and their third facility statewide. Arizona is also home to their Corporate Headquarters in Chandler. The second Phoenix location is over double in square footage to the first Phoenix facility and is located at 7400 West Buckeye Road, Phoenix, Arizona 85043. OnTrac employees were joined by customers, the Phoenix Chamber of Commerce, business partners and the Phoenix community for a celebration lunch, a ribbon cutting ceremony and facility tours.

The theme for the celebration was growth. Vice president of marketing and public relations Laura Peterson welcomed the guests and kicked off the event by introducing OnTrac general manager Matthew Fagnano and regional sales manager Brian Schnakenberg. Matthew Fagnano spoke to the company's healthy growth plans by explaining that "the Phoenix facility is designed to be an expandable system in terms of the material handling, which will allow OnTrac to continue to service the needs of the West Valley and grow with the community." With over 200,000 square feet, OnTrac is planning the expansions well in advance for this Phoenix facility with an eye toward the future.

Brian Schnakenberg continued the celebration by expressing his appreciation for our customers and business partners. He said, "their support and loyalty to OnTrac is what drives our success and allows us to open and operate new facilities such as this one." Brian introduced Jeff Durbin from the Greater Phoenix Chamber of Commerce who presented OnTrac with a certificate and plaque just before the three cut the ribbon and the confetti was popped.

The Wasserstrom Company Director of Logistics Dave Lewellen attended the event and expressed his reverence towards OnTrac's growth by saying, "the Wasserstrom company has been working with OnTrac for many years. We have a great relationship and OnTrac has helped us work through different opportunities that we have. Thank you, OnTrac, for doing a great job and being a great partner."
Merger News
Risk Strategies Company Acquires Brightstone Insurance Services
Acquisition marks entry into rapidly growing industry, fueled by rise of e-commerce
In a move that marks its first foray into the market, Risk Strategies Company today announced it has acquired Brightstone Insurance Services, a specialty broker focused on the needs of same day transportation and logistics companies. Terms of the deal were not announced.
Established in 2010 by Howard and Peter Schlactus and Jeff Ice, Brightstone's growth has been fueled by the rapid delivery ecosystem supporting the accelerating rise of ecommerce. Within its focus industry, Brightstone's expertise has attracted a diverse client base, reflecting the evolving nature of the market, including expedited and restaurant delivery, courier services, logistics and record storage firms.
"Risk Strategies is building a company of true specialists," explains Michael Christian, founder and CEO of Risk Strategies Company. "From its beginnings through today, Brightstone has exemplified the type of specialty capability that makes it a great fit for us, while also providing a foothold in an industry segment on the leading edge of our changing economy."
While primarily focused on transportation and logistics, Brightstone has developed complementary business in associated practice areas, including commercial lines and private client personal lines, which fits into and builds on existing Risk Strategies practice groups.
"As our target industries have grown and evolved, it's become more important to have the reach and resources of a national level firm," said Peter Schlactus, managing director, CIC, CRM, AAI at Brightstone. "Risk Strategies was our choice because it really understands how to convert the power of specialty expertise to our clients' advantage."
Brightstone operates in support of its national client base out of two main locations—Cleveland, Ohio and New Rochelle, New York—with approximately 50 employees between them.
"Being a specialist has been an incredible edge for us in winning business, and for our clients in the capabilities we bring to them," said Jeff Ice, managing director, CIC, Brightstone. "Being part of Risk Strategies will extend the range of specialty capabilities our clients can count on, as their needs evolve."
New Partnership
WESTERN PEAKS LOGISTICS AND PTC AIR FREIGHT ANNOUNCE PARTNERSHIP
Combined footprint will significantly expand coverage area and increase customer value
Western Peaks Logistics (WPL) and PTC Air Freight, both based in Salt Lake City, are joining forces to expand and enhance their coverage of the western United States in providing customized freight-forwarding, delivery, and logistics solutions.
WPL is the premier same-day/next-day and last-mile delivery and logistics provider serving Utah, Colorado, New Mexico, Wyoming, Idaho, and surrounding areas. WPL's current customers include several of the country's most recognized brands in national retail, express shipping, bulk mail, laboratory companies, and pharmaceutical wholesalers.
PTC has been recognized for more than 40 years as the standard of excellence in specialty distribution and expedited freight-handling services along the Wasatch Front. The company also considers its highly experienced staff and sophisticated technology to track deliveries and communicate with customers to be competitive advantages.
"By partnering with WPL, we will significantly expand our reach and our resources while continuing to provide the high levels of customer service to which PTC customers have become accustomed," said Dennis Gardner, president of PTC. "With benefits like access to a new and larger warehouse and a significantly expanded service area, this partnership will enable us to be even more responsive to our customers' needs in a more cost-effective way."
Both companies offer same-day delivery service, parcel and freight, warehousing and fulfillment, dedicated fleets, and white-glove home delivery and assembly service. WPL customers will particularly benefit from PTC's extensive experience in the freight-forwarding business, as well as PTC's packaging, palletizing, and hot shot service offerings.
"Adding PTC to the WPL portfolio significantly enhances our ability to serve the freight-forwarding industry," said WPL CEO Tyler Thatcher. "Combining the managerial expertise and services of these two great businesses will enable us to offer a compelling solution for shippers that are servicing customers in the Rocky Mountain West."
The partnership is backed by Banyan Ventures, a professional venture-building firm in Salt Lake City. WPL is a Banyan portfolio company.
New Employees
Key Software Systems Grows with New Members to the Xcelerator and MobileTek Development Teams
Key Software Systems, developers of Xcelerator, MobileTek and Fleet Commander, is recently announced the addition of new team members to the Xcelerator and MobileTek development teams. The additions of Matt Knoll and Alex Lin were essential in advancing Key Software's continuous development momentum.
Matt Knoll came to Key Software in February. When not working he likes to spend time surfing, cycling, playing video games and watching movies. He also likes to snowboard in Vermont or the Poconos. "Working at Key Software has been a great experience. I am grateful to work alongside a group of people that are not only great at their jobs, but also fun to be around. It creates a work environment that is enjoyable and productive," states Matt.
Alex Lin joined the MobileTek Development team in June. Alex is a web developer who recently moved from California where he was born and raised. After graduating from UC Riverside with a Bachelor's degree in Biology, Alex found his true passion in computer programming and made the career switch completing an intensive coding boot camp and freelance projects. Alex adds, "I can already say with confidence that Key Software Systems is a great place to work and every employee here is dedicated to delivering high quality, innovative products." Aside from learning the ins and outs of New Jersey, Alex also enjoys hiking, basketball and playing the drums.
Company President Charlie Pisciotta adds, "We are currently moving forward with multiple development projects, including a new crowdsource product called DriverLens, finalizing Xcelerator cross-browser migration, customer enhancement requests and the continuous advancement of existing features. Matt and Alex bring a vast knowledge as developers and the passion to work on new projects and we couldn't be happier to have them a part of Key."
Promotions
QCS Logistics Announces New President, Promotions to Executive Management Team
QCS Logistics, one of the region's premier courier and logistics companies, has named Jason G. Burns, Sr. as its new president. Jason joined the company in 2007 as vice president of business development.
Current president and CEO, Ronald V. Burns, Sr. will transition to CEO and chairman of the board of directors. Ronald Burns, QCS Logistics founder, has grown the company into one of the largest courier companies in Louisiana and an Inc. 5000 "Fastest Growing Private Company" for the past four years. Today, QCS Logistics has a staff of 19 and more than 75 drivers, manages two warehouses, and completes more than 1,000 deliveries a day.
Warmoth G. Guillaume, who serves as vice president and general manager, will assume the role of chief operating officer. Guillaume joined QCS Logistics, as a partner in 2004, having worked 26 years at United Parcel Services. He will be responsible for oversight of the company's operational plans, policies, and initiatives. Guillaume is excited about the new direction in leadership, stating, "I am confident that we will continue to expand our footprint within the region with our dedicated and experienced employees as a key element of that growth and the company's success."
David Domingue will be promoted to the position of general manager, having served as operations manager since 2012. In his new capacity, he will assume management of the company's day-to-day operations, including its warehouse operations.
Jason G. Burns, Sr. serves as treasurer of the Customized Logistics & Delivery Association (CLDA), the industry's leading trade association, and serves as treasurer and chairs its membership committee. He was recently re-elected as an executive board member during the organization's annual conference.
"Jason has done an outstanding job of guiding our company through a remarkable growth period and has helped drive QCS Logistics' adoption of innovative technology and expansion into different vertical markets and service offerings," chairman Burns said. "Jason brings an innovative approach, national industry leadership and a forward-looking vision at a time of dynamic changes in the logistics industry. We are excited about the future and confident in the strength of QCS Logistics' leadership team."
Jason Burns, who joined the Customized Logistics & Delivery Association's board of directors in 2011, said he is excited and proud to take on the mantle as QCS Logistics president.
"I am truly honored and humbled to be entrusted as president of QCS Logistics. This has been a dream of mine since I made my first delivery as a five-year-old alongside my father," he said. "Throughout QCS Logistics' 33-year history, our core values of integrity, excellent service and community involvement have enabled us to become one of the leading last-mile providers in the region. My vision is to work together with our management team and dedicated employees to build upon this proud history by creating innovative and value-added logistics solutions for our evolving customer base."
In addition to his leadership role with the CLDA, Jason Burns serves as a current board member for the Urban League of Louisiana. He also was selected to participate in the nationally recognized Goldman Sachs 10,000 Small Businesses program, the Ortique Leadership Institute, the inaugural class of Xavier University's Norman C. Francis Leadership Institute, and the 2013 Aspen Institute Action Forum.
Jason Burns graduated with a bachelor of arts in communication studies from Vanderbilt University in Nashville, Tennessee, where he was a three-year letterman as a wide receiver on the varsity football team and the recipient of the 2006 Dedication Award.
New Software
CXT Software introduces the latest release of X Dispatch logistics software with route optimization and breakthrough performance features
Phoenix, AZ. (July 18, 2017) – CXT Software introduced the latest release X Dispatch 17 with route optimization and a faster, more powerful system for placing orders and dispatching drivers. Designed to solve the unique logistics challenges of on-demand and delivery companies, X Dispatch gives users the tools to compete with national shipping companies.
"This is by far the most robust product release we've ever created with even more tools and features for on-demand delivery and logistics companies – and it is just the beginning," said Lyndon Edmonson, Co-Founder and CEO of CXT Software. "We reengineered entire sections of the software and built-in route optimization to dramatically improve how dispatch and delivery maximize workflows."
Groundbreaking Performance Powered by X Dispatch
X Dispatch, business enterprise software, comes with drag-and-drop dashboards that streamline dispatch and route monitoring, and intelligent distribution capabilities with the ability to auto assign deliveries or drivers for maximum performance.
More Powerful System for Placing Orders Online
The all-new Rapidship online order entry interface quickly processes orders from a single screen using drop-down menus, filter features, and type-ahead searching for saved addresses. The elegantly redesigned interface provides customers with an intuitive layout for ease-of-use and built-in themes for order screens, labels and text.
Route Optimization that Recalibrates in Real-Time for Maximized Efficiency
Routes update in real-time, throughout a driver's shift, providing the shortest distance and fastest time to complete their work while still observing time windows for each stop. Optimal sequencing considers a driver's position at all times and calculates ETAs for all assigned stops, informing immediate updates for dispatch, if a driver is expected to arrive late.
"We're thrilled to share this new, technology with our customers because the new routing algorithm will generate an instant uptick in their productivity, ultimately adding to their bottom line," says Jim Luciani, Senior Vice President of Marketing and Sales of CXT Software. "Our development team has hit their stride, in terms of uncovering the solutions that will continue to position our customers as strong competitors in a changing market."
For more information regarding CXT Software, including the 17 release, or to schedule a live product demo, visit cxtsoftware.com or call (602) 265-0195.
---
---