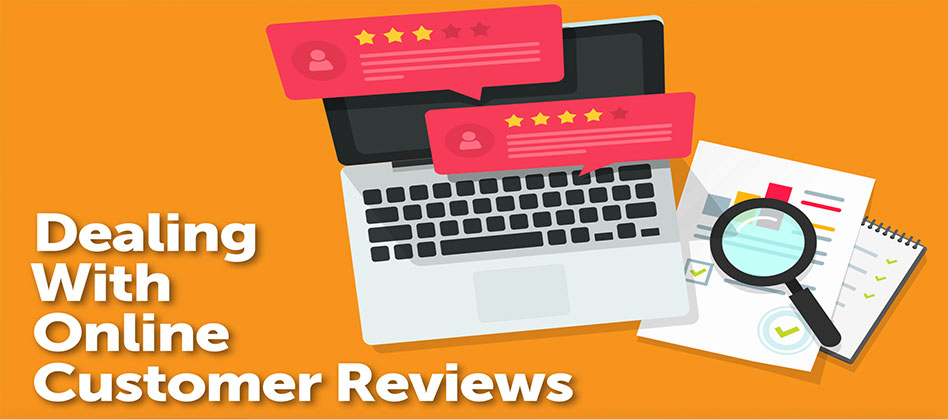 In today's online world, a delivery gone wrong creates more than an unhappy customer. It can reverberate around the world on the web. Whether it's a bad review on Yelp or a nasty post on Facebook, it can and will affect your business.
These reviews are read and trusted by millions. They have the power to effect business development and customer retention. According to online social media consultant, ThriveHive:
90 percent of consumers read online reviews
88 percent of consumers trust online reviews when considering a business
72 percent of consumers say that positive reviews make them trust a local business more
86 percent of consumers will decide against buying from a business if they read negative reviews online.
A one-star increase on Yelp leads to a 5-9 percent increase in business revenue, and one negative review can cost a business 30 customers. NOTE: a Yelp page will sometimes rank higher than a company's actual site on a search engine results page
I recently read Jay Baer's book "Hug Your Haters"and it changed the way I look at the marketing opportunities opened up by negative reviews. That's right—I said "opportunities" and "negative reviews" in the same sentence.
Complainers—Who are they and what do they want?
Complainers (or "Haters" as Jay Baer calls them) fall into two categories. Each kind of complainer has their own characteristics and what they expect from the offending business.
Off-stage complainers usually log their concerns privately, in a one-to-one format like a phone call or an email.
These complainers share these characteristics:
Slightly older than "on-stage haters"
Less mobile than on-stage haters
Less social media savvy
Less likely to complain
Less strident and dramatic than those who complain publicly
Make up the majority of complainers (62 percent of those who complain overall)
Want and expect an answer
91 percent of those who complain by phone expect a reply
89 percent of those who complain by email expect a reply
If you answer them you can expect them to become brand advocates for your company
If you don't answer their complaints, expect a decline in their willingness to advocate for your brand and that they may turn to social media and review sites to air their issues
On-stage complainers almost always complain first in a public way, using social media, review sites, discussion boards or forums.
These complainers share these characteristics:
Slightly younger than the off-stage haters
More mobile
More tech and social media savvy
More likely to complain frequently
More strident and dramatic in their complaints to gain attention in the cluttered social media environment
Less likely to expect an answer as compared to off-stage haters
42 percent of those using social media expect a reply
53 percent of those using review sites expect a reply
They are pleasantly surprised if you answer them and, will in fact, be likely to become brand advocates if you do
A 20 percent increase in advocacy from those using social media
A 16 percent increase in advocacy from those using review sites
Why it's Important to Answer Every Complaint Publicly
"Customer service has become a spectator sport."
That quote from "Hug Your Haters"should be the guiding concept in responding to all reviews. Why? Because consumers take your responses (or lack of them) as an indication of how you deliver customer service.
Responding publicly takes a complaint and uses it as a vehicle to demonstrate your responsiveness and concern for both the customer and the shipper that hired your company. It's the outward sign of the way you approach customer service.
Answering complaints increases customer advocacy. Customers who get their issues solved tend to become customer advocates. In Baer's book, he cites these chilling statistics:
Responding to a complaint anywhere on social media generates a 20 percent advocacy lift on average
Not responding to a complaint on social media decreases customer advocacy by 43 percent
For Yelp customers (the go-to place unhappy customers), responding to a negative review increases customer advocacy by 16 percent
For Yelp customers not responding to a negative review results in a 37 percent drop in customer advocacy
Most importantly, one of the biggest pluses for couriers that participate in review sites isn't just increasing advocacy among the original complainers, but demonstrating to onlookers that your business cares
The bottom line is this:
Responding to on-stage haters will surprise and delight them
Responding publicly magnifies your response to all on social media
Responding publicly demonstrates your dedication to customer service to all who are active on social media
Rules of Engagement on Social Media
Your responses to negative social media comments showcase your company's positive attitude toward the customer. Responses demonstrate your concern for customer issues. But how do you do that? Rule #1 is to make sure your response sounds like it's written by a human; someone who has compassion for the customer and a determination to make things right. No one feels any better when they hear: "We're sorry your expectations were not met by this delivery." Who talks like that?
Here are some of the "rules of the road" for responding to negative reviews:
Stay positive
Offer a solution
Take the conversation offline to share account-specific information
Communicate with the customer as you would a real person. Do not use corporate-ese
Demonstrate empathy and an eagerness to solve their problem human-to-human
Talk like a person, not a corporation
Consider the difference between: "Your problem is very important to us" and… "Wow, that's terrible. That's not how we do business. What can we do?"
Reply only twice—There is a group of complainers who enjoy the spotlight. These folks (sometimes called "trolls") only want on-stage attention. They want to get you to say something off-kilter and they have no real interest in getting their issues resolved. To avoid getting into a public "war" with this group of people, only go back and forth with them twice—no more.
If they continue to come back at you, take the conversation off-line with a post such as… "Clearly, this is an issue that concerns you. Let's see what we can work out together. Please email me with your contact information. My email is: aobston@aomc.com." Most will go away and those that come back will be seen by your social media followers for what they are.
Ask for an update; if you've responded to the customer's review and solved the problem, it's perfectly appropriate to ask them for an updated review. (Do not ask that they take down the review specifically). Sometimes customers will decide to do this on their own. On the other hand, there's nothing wrong with asking them to update their review as long as it doesn't look like that's the only reason you're helping them.
Taking it Off-line
Almost all social media channels offer the ability to send private messages. You would use these off-line channels to either gain more information about the order the customer is concerned about or to invite a private conversation to defuse a complainer who tempts you to violate the "twice-only" rule.
Monitoring Reviews
The sheer volume of reviews and review sites is overwhelming. To help you deal with the clutter and to respond in a timely manner, we recommend using an online dashboard. These Reputation Management services allow you to:
Spot reviews involving your company from review sites
Spot company mentions on the web
Spot company mentions on search engines and social media
Respond to reviews and keep track of the conversation
See all these on one dashboard
Receive immediate alerts when your company is mentioned
There are a number of providers for these services. Business News Daily's top choice for a reputation management service is WebiMax. In "Hug Your Haters", Baer singles out Yext and Review Tracker.
These services can help you monitor reviews, respond to them, and some even help you reach out to cultivate positive reviews. They can be good ways to protect your image, but make sure you know what each can and can't do. Also, look into the methods they use to make sure they are trustworthy and effective. Evaluate their packages to make sure you aren't paying for more than what you want. Decide whether you want some (or all) of these services: Managing existing negative comments or reviews; managing online reviews, and brand building and management (i.e. cultivating positive reviews).
Promoting Positive Reviews
Now, let's talk about those positive reviews. The best antidote to negative reviews is to cultivate positive reviews. How many successful deliveries do you do every day? A lot, I'll bet. I'll also bet people do not run to their screens to tell the world how great it was to get what they wanted when they wanted it. How about asking them to do just that? Heck, my dentist and my car repair shop do that. Why don't you?
Consider these facts:
Only 70 percent of consumers have been asked by a business to leave a review
If asked, approximately 71 percent of consumers will leave a review for a business
It's just plain good business to ask your happy customers to post a positive review. It's also a great way to attract the attention of shippers. Just make sure you're not too aggressive in the way you ask for these reviews. For starters, let customers know you work with review sites; that you care about what they say and, in fact, value it.
When asking for a review, here's what you need to keep in mind:
Ask at the peak of your customer's happiness with your service (i.e. right after the delivery)
Use casual language
Make it clear you are interested in feedback; not just a rating
Approach the customer in a way that asks for a favor
Let your customer know how long doing the review will take
Tell your customer how much their writing a review means to you
Tell them that you're looking forward to reading their review
Express your gratitude for both their business and the time it takes to give the feedback
Avoid offering incentives for leaving online reviews—both Yelp and Google have taken aggressive stances against such practices
Conclusion
It's a challenge to build a positive online review presence. And it's equally daunting to face the inevitable negative online reviews that all couriers unfortunately experience.
As Jay Baer is fond of saying: "Customer service is a spectator sport." His premise in "Hug Your Haters" is one to take to heart: Customer service is the single most important differentiator for any company and that dealing with online reviews constructively and publicly is the best way to demonstrate your dedication to customer service. "..Customer experience and customer service remain fertile opportunities for standing above the mass of competitors," he writes. And turning customer service into a marketing opportunity for your courier company is the best way to harness this idea.
About the Author
Andrea Obston is the Director of Public Relations at the CLDA.
---
---