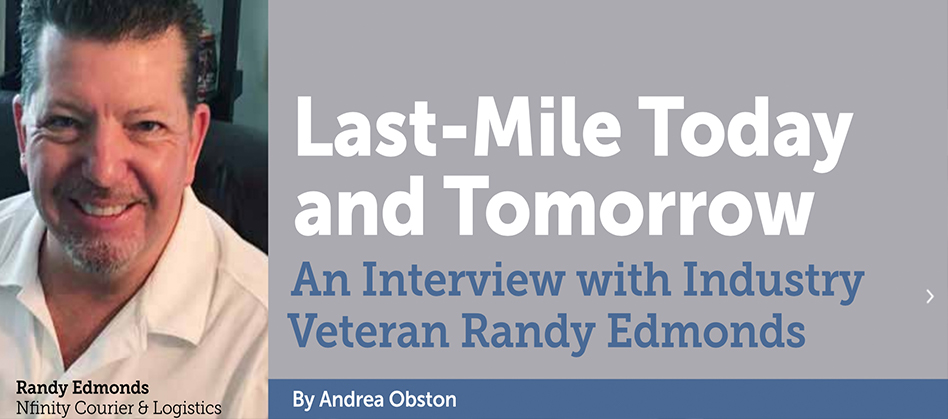 What are the trends that will impact last-mile delivery in 2018? And how can logistics providers make the most of them? Industry veteran Randy Edmonds knows. He brings over three decades of experience to the below answers.
Edmonds founded a relatively new player to the market, Nfinity Courier & Logistics, in July 2016, taking advantage of a life-time of experience in logistics. This active and long-time member of the CLDA took a few minutes from his crazy schedule to share his take on the industry with CLDA PR director, Andrea Obston.
Question: What are the hot trends in last-mile right now?
Clearly e-commerce, which has dominated the landscape for the last few years, continues as the hot trend. And it's still growing. Every carrier that's in it is riding the wave and many of those who haven't been involved in e-commerce are trying to get into it. That growth continues to put stress on companies like ours to meet that escalating consumer demand.
Let me give you an example: for the holiday season that just passed, we ramped up to 50 trucks to deliver to the post office for Amazon and FedEx in five different markets. To put that in perspective, we normally would run about 30 trucks. That's a forty percent increase and with that comes a lot of additional pressure. It's not a matter of getting the equipment. We normally get equipment through rental partners and through them we can secure the vehicles we need. But putting drivers into those vehicles is a challenge. It's especially tough during the peak season—from a week before Thanksgiving through Jan. 8. It doesn't stop on Dec. 25. It won't calm down until after the first of the year. Then we can eliminate some of the extra routes. But finding drivers isn't just about responding to holiday rush. If you talk to anyone in the industry, they'll share their frustration about finding good, competent, dependable drivers throughout the year.
Question: What challenges are you facing now that are new or have escalated?
Driver recruitment and escalating insurance costs. I can't emphasize enough how critical the driver issue is all year, especially if you're looking for truck drivers. It doesn't matter if you're talking about ICs or employee drivers. I expect this to be an issue we'll be dealing with at the CLDA Annual Meeting in May. All of us in the industry have faced it and each of us has had to develop our own strategies for dealing with it. We've all come up with ways to not only find them, but hold onto them. We've got to pool our knowledge to develop strategies to help the whole industry.
Increasing insurance costs is another big issue that's impacting all of us in this industry. Those increased costs have been phenomenal. Even though I've been in the business a long time, now that we're fairly new, we're finding those insurance costs are just eating us up. But, of course, the coverage is necessary. That's the cost of doing business—especially when you get into the high-end products and work for bigger companies. Those big companies want higher coverage. The costs are getting harder and harder to deal with.
Question: What do you expect to see happening in last mile in 2018?
Besides the continued grow of e-commerce I foresee a change in the makeup of this industry. I expect to see partnerships developing—with LTLs; with 3PLs and even amongst ourselves as couriers. Multiple friends of mine in the industry are looking into partnership networks to cover wider territorial ranges. We are looking for ways to expand our markets. Partnerships are developing among people we each know in the industry. For me, CLDA is a part of that development of relationships and friendships. I've been a part of it since it was the MCAA and that's where I created friendships that are over 20 years old. We see each other at meetings; call to pick each others' brains and find ways to just sit down and talk. Everybody knows something and I've found that developing those kinds of relationships benefits all parties.
Technology will change industry again in 2018. Everybody's got to keep up. Customer demands mandate that. Everyone wants to know where their packages and shipments are all the time. There will be a push for courier companies that are behind that curve to keep up.
Question: What are the major issues those in the last-mile sector are facing?
In addition to the challenges of driver shortages, technology and the day-to-day changes in consumer demand, I think the next big issue is the assault on the IC model. We have to make our legislators understand how important their support for the IC model is to our industry's survival. I saw that first- hand when, for the first time, I went to the 2017 CLDA Lobby Day. I was a newbie, but I loved it! Everything about that experience was positive. Over the two days in DC I had eight meeting with my representatives. I really enjoyed the fact that the members who attended Lobby Day were all supporting each other and making those visits the positive experiences they were.
Question: Lastly, tell us a little about your experience in the logistics business.
I've been in this business all my professional life; over 30 years. My first job was in my family's startup company in Cleveland. I started there when I was 20 years old. I was running routes and dispatching for my dad. Fifteen years later, I spent a significant amount of my career at Corporate Transit of America. We built that up to a $60 million company before I left. In July 2016, we founded Nfinity Courier and Logistics based in Little Rock, Arkansas with Miles Hilliard and Mark Molnar. We all worked together for my old company. We closed out 2017 with $8.5 million in revenue. We service the Midwest and beyond with pharmaceutical deliveries; automotive parts and products; medical lab work; fleet replacement; warehouse distribution logistics; in-house transportation management programs; route service and mail room management.
For most of the time in this industry I've been an active part of CLDA and its predecessor, MCAA. I'm on three CLDA committees, including the one that plans the Annual Meeting.
Logistics is also a family affair for me. Not only did I follow in the footsteps of my father, but my wife, Unna Edmonds, is in the business. She is the general manager of AM-TRAN in the San Francisco Bay area. This business has been good to our whole family and we love the challenges it brings us every day.
About the Author
Andrea Obston is the CLDA PR Director.
---
---