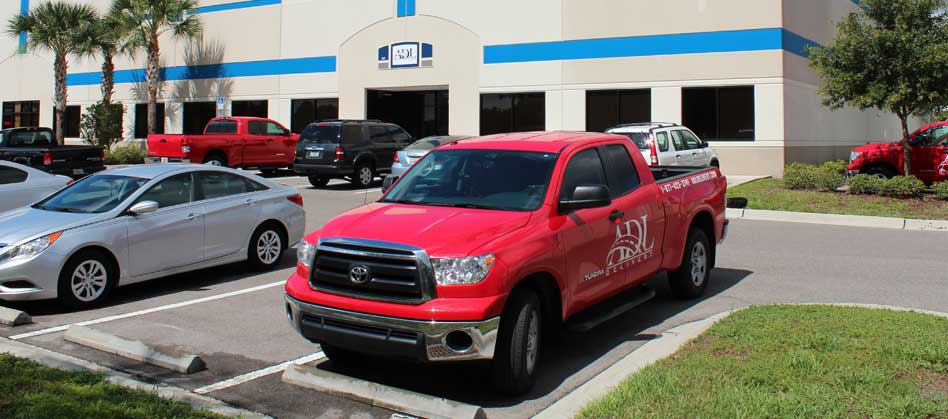 Courier Magazine recently interviewed Thomas D. Jowers, chief operating officer of ADL Delivery, about the company's success through the years.
Courier Magazine: Comment on the success of your company's founders and their ability to develop the organization.
Thomas D. Jowers: Mark and Charles McCallum, brothers, started ADL Delivery (as the company is known today), in September 1999. They were approached with the idea of purchasing a franchise of a much larger company and being its provider in Florida. The concept was simple: automotive parts delivery and distribution. Mark, being a previous parts manager, saw the benefit of owning a delivery company that catered to the wholesale parts world and decided to take the leap. Unfortunately, he had the parts knowledge but lacked the technical knowledge, so, he approached his brother Charles about becoming his partner in this endeavor. Fast forward to the end of 2002 and Mark and Charles had succeeded in growing the company more than $5.5M per year in revenues.
After a while, though, both brothers started feeling that they exhausted their efforts for growth and decided it was time to make a change. They bought out of their franchise agreement and brought on another partner, me. I had been in the industry for more than 10 years and helped develop the automotive parts delivery programs for the company they bought their franchise from. In July of 2003, the brothers decided to hire me as an equity partner in the corporation. My focus was to put in process and procedure, and to help get the company to the next level. This included a new sales initiative and outlook for the company's operation.
CM: How has the company grown since its start?
TJ: The company started with a few small customers in the Miami, Fla. and Fort Lauderdale markets. Once the business took hold, Tampa and Orlando were brought on to help round out the market -- a small network was developed to shuttle parts to and from these areas. Over the years, the needs of our customers grew and as they grew, we decided as business owners that our best option was to grow with our clients. We pushed further into the northern parts of Florida and continued north into Georgia and the Carolinas. With this growth, we were able to offer additional services to our clients and provide a network that could not be matched. This allowed us to grow revenues by more than 550 percent over the last 10 years.
CM: How did you know what alternative avenues to explore in the courier business?
TJ: We decided we wanted to do and be something different. There are many companies that choose to delve into any kind of business that is thrown at them. Diversification is a key component to being successful. However, trying to be everything to everyone was a recipe for disaster in our eyes. Our thought was to do our best to be the best in just three or four types of business, and grow by means of our customers needs and into areas that made the most sense. We had seen the mistakes made by many other companies and tried to not make the same ones.
It also helped to create long term relationships as opposed to just signing customers. Anyone can have a customer, but creating a partnership with our clients has been one of the keys to our success. Having a customer tell you that they will do business with you wherever you have the ability to service them goes a long way in developing new strategies for growth.
CM: How did you diversify your business to stand out?
TJ: As we grew our markets, we found that our regional service would work not only for the automotive side of the business but also for anyone needing a distribution model. We found that having our own brick and mortar locations was more preferable than using agents in different locations. This gave us better control of the operation and put us in a situation where we could provide the service level required to maintain our customers. We began to reach out to other businesses that had a need for this type of service. This allowed us to diversify our customer base.
CM: What are some of the new ideas your company is using to modernize its operation? Is new technology pushing business?
TJ: One of the things that gave us an edge is that Charles, one of the partners, had a significant background in the IT sector. We put our heads together and decided that to be effective, we needed a platform that allowed us to jump ahead of our competitors. In the beginning this meant reaching out to a tech company and having them start developing a program that would allow us to do this. After the first pass and a lot of money, we decided to scrap the tech company and to hire our own IT staff to develop what we wanted. Soon after that, "A-TRAK," our tracking system, was born. A-TRAK allowed our customers to create and track shipments, develop customized reporting, and track packages with GPS specific locations and online POD. It also allowed for full integration with our customers' systems and specific needs.
CM: What is the key to your company's success?
TJ: To say there is only one key to our company's success would be a mistake. There are multiple keys to our success. To name a few: Dedication from our employees and the contractors that provide the service to our customers. Our "whatever it takes" attitude when something does not go the way our customers expect. Holding ourselves accountable so our customers do not feel the need to do so.
CM: Comment on customer service within your company. How important is it?
TJ: Customer service is paramount. We have a department dedicated to taking calls and responding to customer needs. We do our best to take a proactive approach to how we deal with service to our customers. As an example, if we have a route that is running later than normal for any reason, we contact every single customer that shipped with us on that particular route, and contact every customer they shipped to. This ensures that everyone involved is aware of the situation. We also randomly contact the recipients of the deliveries made to see how their experience was with the driver and to see if there is anything we can do to make that experience better.
CM: Talk about the importance of your employees -- how do they go above and beyond at your operation?
TJ: Our employees are taught the company's "whatever it takes" philosophy. It is not a matter of just making sure our customers and their clients are taken care of when an opportunity presents itself -- it is a matter of ensuring they are always taken care of. (This includes one of our managers physically jumping in a vehicle and making a personal trip to address even the smallest issue created by a service failure.) We also do our best to follow up with customers at least a few additional times to make sure the service level stays where it needs to be.
Without the people that care about those customers and their experiences, this is not possible. Having employees that truly care about the reputation of the company and making sure those employees are taken care of is at the top of our list. When you go above and beyond for your employees they will do the same for you and your customers.
CM: How do you add services at your company and how do you manage them?
TJ: At ADL, we do our best to stick with the things we are good at. Again, trying to be everything to everyone puts strain on your operation and causes service issues. We look at each piece of business we are offered as unique and do our best to develop a program that can be reasonably managed with our existing personnel. When that is not an option we seek out the necessary team members to manage that piece of business for us.
One of the other items that help us accomplish this goal is our IT infrastructure. Having our own team of developers allows us to create what we need, when we need it. If a new type of business presents itself and we do not already have what we need to manage it, then we can just walk down the hall and meet with the people that can make it happen.
---
---