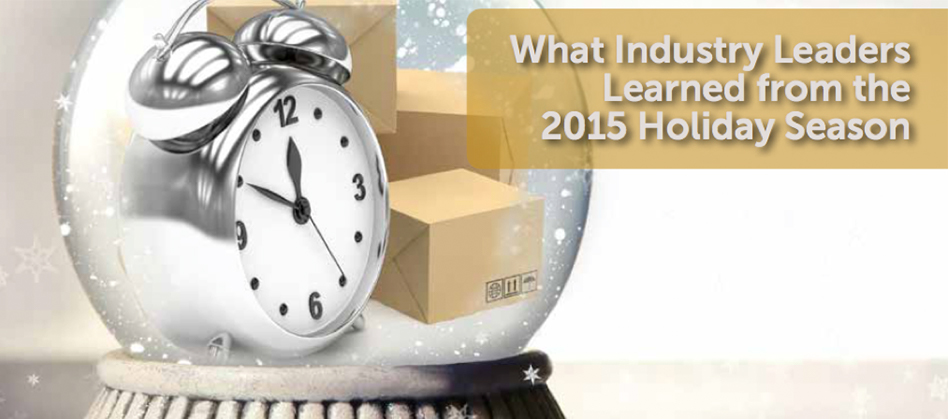 What Industry Leaders Learned from the 2015 Holiday Season
Chuck Moyer, Chief Commercial Officer of LSO
By Abbie Stutzer
Chuck Moyer is well aware that to successfully get through the holiday season, a company has to plan early and pay attention to industry trends. Courier Magazine recently interviewed Moyer about how he handled last year's holiday season, and how his company is planning for November/December 2016.
Courier Magazine: Tell us about your thoughts concerning the 2015 holiday season, and how you think the previous season will affect the 2016 season.
Chuck Moyer: We're still seeing continued growth—particularly from e-commerce. We're also seeing additional momentum in some of the trend lines, i.e., returns. And, we've seen the following and the studies support it: There's been double-digit growth year over year from online and small parcel commerce types of businesses.
In 2015, we were fortunate—the weather didn't negatively impact us as it did in 2014. Additional growth occurred because the economy has showed some improvement, and gas prices were down. And there was an extended shopping season in 2015—more days between Thanksgiving and Christmas again—which benefits those numbers.
But when you really start looking at some of the data trends—Black Friday, obviously, was a major point of discussion in data comparison, but it has now become secondary. We now see more volume with Cyber Monday—it's one of the other tools that retailers are using to reach the consumer and to spread out the holiday season. And retailers with less inventory and brick-and-mortar stores also drive some of that. But I guess when I start looking at all the data, the trend lines continue to grow and all the concerns that we've spoken about over the past 3-5 years continue to show that at some point in time, it is going to become problematic.
We've seen some pretty tough years. Even in 2015—there was a lot of news about FedEx, carriers, etc. being out on Christmas Eve and Christmas Day delivering packages because of delays and issues that they ran into.
We're also seeing consumers become more Internet savvy. They've learned how to best maneuver and manipulate the system, but that's creating additional stress on the supply chain. The consumer is more educated and is checking up to four Internet sites to do research on an item before they purchase. Sometimes they even purchase multiple items with the intent that they can return whatever they don't want.
So, when I look at all the trends, I see it really comes down to that customer experience. And the real winners are the ones who can provide that superior customer experience. All the e-commerce players and retailers are looking to achieve that, but ultimately, what we are doing from my perspective, is we've managed to educate the consumer and set an expectation with the consumer that at this point may not be sustainable to the supply chain.
That's counterproductive to the ultimate customer experience because when the consumer becomes as savvy as they are and procrastinate to the last minute, expecting fast, free, delivery, and then there are issues
within the supply chain—a driver shortage, weather related items, etc.— it can potentially be counter-productive to the ultimate customer experience.
As we develop a culture with the consumer, then they begin to want an outstanding customer experience—they want it quicker, overnight, free, and free returns. Ultimately, what we are doing is loading up the supply chain to a point that it cannot sustain the expectation.
Courier Magazine: How do you think this will ultimately affect the supply chain?
Chuck Moyer: There are a lot of ways things may go—we may see more inventory out of the store because of app driven delivery options. But to do that, the retailers are going to have to get more visibility to in-store inventory. But that certainly could take some pressure off the supply chain.
And there will still be retailers expecting to be able to ship something on December 22 or 23 and that want to give the consumer superior customer experience when certain things are out of everyone's control—weather, fuel. They will have to set realistic expectations if we are all going to be successful.
The mobile device is becoming a key element when you look at the data. What I anticipate is that in the future, we are going to have consumers that want something delivered to their place of business, but they don't want to wait on it.
They are going to want realtime services—so, co-signee redirection with delivery to the home instead of the office, but the package doesn't go back to a DC. We are going to see some challenges as things develop with that.
But at the end of the day, the trends continue—both positive and negative. Volume continues to increase and ultimately, we are going to experience a train wreck if we have several days of bad weather that impact the supply chain in a negative fashion.
It all comes down to setting realistic expectations—for retailers, consumers, carriers, and the shipping community.
Courier Magazine: When should a company begin to plan for the next holiday season? What should they remember from year to year?
Chuck Moyer: Shippers and carriers should be setting out expectations and requirements in Q2 or early Q3 at the latest.

Carriers shouldn't over extend themselves and should be honest with the shipping community. They need to be honest about the volume they can handle and be sure I can perform at a level that meets expectations and doesn't over extend. It comes down to managing expectations and communicating properly. It doesn't matter if it's in the supply chain or consumer retail community—those expectations have to be set.
Courier Magazine: What is your company doing?
Chuck Moyer: From our standpoint, we have changed our model—now not only do we provide first and last-mile on the customized logistics side, but we also can make a division between the first and last-mile customized logistics and the division that does small parcel, overnight delivery—a sector that truly does compete with FedEx and UPS. We feel that now, our service offering is much more robust and able to deal with the holiday and commerce trends.
A lot of companies will either do one or the other, so it gives us much more versatility to deal with and recover, be it weather related items, or just volume increases and fluctuations.
We are improving our position year after year, which is double what everyone is trying to do. Now, as far as being prepared and saying there's not still challenges is bit of an overstatement. But we certainly have continued to improve our position.
To get prepared, we have operational planning sessions and meet with the customer-base. We also anticipate volume increases and staff accordingly so we can set those expectations with the shippers. We also bill to be able to meet those expectations and try not to overcommit or sell our resources if we can't perform.
About the Author
Abbie Stutzer is the Editor of Courier Magazine.
---
---